View Geological Sciences Flowsheets 
Faculty
Associate Professor: Douglas E. Allen,Chairperson
Professors: James L. Cullen, Jr., Lindley S. Hanson, Jeanette M. Sablock, Peter E. Sablock
Assistant Professor:  Jeremiah B. Hubeny
Faculty Emeriti
Professors: Assem Badawy, Garland A. Gray, Jr.
Programs Offered
Bachelor of Science – Geological Sciences
Concentrations
Earth Policy  
Earth Resources  
Earth Science  
Environmental Geology  
Geoarcheology 
Geology 
Geotechnology 
Marine Geology  
Minors
Earth Science  
Geological Sciences  
Programs in Geological Sciences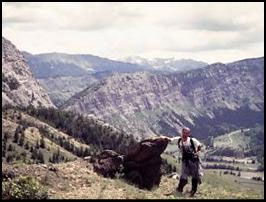 The Department of Geological Sciences offers a Bachelor of Science in Geological Sciences. Students can choose from innovative concentrations all of which are built around a core sequence of courses in the department which give all students in the program a solid background in geology. All majors are required to participate in our field geology courses held in the western United States or an alternative field geology course as approved by the department chairperson. In addition, the department offers an individualized Study Program leading to a Bachelor of Science-Geological Science (please see the Department Chairperson for further details about this option).
The concentrations in the B.S. in Geological Sciences are designed to prepare students for careers in public policy, environmental geology, teaching grades K-12, hydrogeology, coastal zone management, watershed management, environmental mapping, mineral exploration, site assessment, geological oceanography, or to prepare students for law school or graduate work in geology. The specific requirements for the concentrations including the major and support courses are listed on the corresponding flow sheets.
The department is equipped with state of the art geological and environmental equipment to include: Ground Penetrating Radar, Seismographs, Electrical Resistivity Meters, Geomagnetic Sensors, Electromagnetic Induction equipment, Research Vessels, Sediment Coring Systems for lakes and estuaries, Environmental Sediment Core Logging Equipment, water control probes (long term deployable), X-ray Diffraction and Scanning Electron Microscopes as well as rock saws, petrologic microscopes and laser surveying equipment.
The Geological Sciences faculty are active researchers and encourage student involvement in their research. For the last two decades student and faculty researchers have worked locally as well as across North America from Eastern Canada to the Northern Rocky Mountains.
Each senior must conduct an independent and original research project in partnership with a faculty supervisor. This opportunity serves as a major capstone experience and prepares students for their professional life.
Bachelor of Science - Geological Sciences
A minimum of 120 semester credits hours is required. For additional information please consult the departmental website: salemstate.edu/geology/
Earth Science Association
The Earth Science Association is a student organization open to any Salem State student interested in the earth sciences. The Association sponsors field trips, lectures, and social events in cooperation with the Department of Geological Sciences.
Honors Programs
Candidates for departmental honors in the Geological Sciences shall fulfill the All College honors requirements as well as departmental requirements and specifications. The honors program is open only to seniors with at least a 3.0 GPA over-all. The student will take an oral examination before the Department Honors Committee based in part upon their research project and in part upon their general background of Geological Sciences course work. The examination will be given once each semester, the first week in December and the last week in April.
Students intending to teach in Grades K-12 should follow the Earth Sciences Concentration and consult with the departmental education coordinator. Candidates for teacher licensure in Massachusetts must also take and pass the Massachusetts Educators Certification Test. For information on admission to teacher licensure programs, please visit the School of Education  section of this catalog. For information on Secondary Education requirements, please visit the Secondary Education Minor  section of this catalog.
---
Back to Top
|

Print-Friendly Page