2017-2018 Undergraduate Catalog
[ARCHIVED CATALOG]
Geography
---
Click here to view/print
 

 low sheets

 
Faculty
Professor Keith Ratner, Chairperson
Professors: William L. Hamilton, Lorri K. Krebs, Marcos J. Luna, Steven Matchak, Steven E. Silvern, Stephen S. Young
Associate Professors: John T. Hayes
Assistant Professor: Noel P. Healy
Faculty Emeriti
Professors: Richard T. Anderson, Laurence E. Goss, Jr., Theodore S. Pikora
Programs Offered
Combined Bachelor of Science Cartography and Geographic Information Systems, MS in Geo-Information Science
Concentrations
Environmental Sustainability  
Travel and Tourism  
Minors
Cartography 
Environmental Sustainability  
Geographic Information Science  
Geography 
Meteorology 
Travel and Tourism  
Department of Geography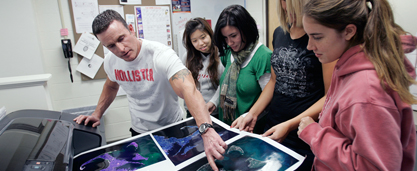 The Department of Geography is committed to having students understand and engage the world from a spatial perspective through teaching, research and service. Geography is a problem-solving discipline whose programs and Digital Geography Lab provide our students with both technical skills and liberal arts perspective to prepare them for life-long careers.
The Digital Geography Lab (DGL) is known as one of the best geography university-level computer labs in the country. This unique facility is dedicated to undergraduate and graduate geo-spatial computing, education, and research. The DGL supports the department's extensive and diverse curriculum with specialized software and hardware. The DGL facilitates collaboration within the department, and is a local focal point for faculty, undergraduate and graduate research.

The Department of Geography's offerings combine a strong background in the academic tradition of Geography with applied fields such as travel and tourism, sustainability, remote sensing and geographic information systems. In 2006, the United Nation's World Tourism Organization (WTO) certified the Department's Tourism education program (BS degree Tourism Concentration) that conforms to and meets the international standards criteria of the WTO.
Experiencing geography out of the classroom is also an important goal of the department. Several classes have field trips as part of their curriculums. In addition, the department organizes annual study tours to Europe and to regions of the United States. Over the past few years, the department has visited many countries in Western Europe such as France, Italy, Germany, Spain, and the United Kingdom. Trips have also included destinations in Central and Eastern Europe. With the History Department, geographers have promoted thematic study/travel seminars on World Wars I and II, the First World War, and topics such as the Central European salt trade and Anglo-Irish relations. There have been study/travel and research related trips to Canada. Domestically, the department has supported trips to Disney World Florida and the National Parks of Southwest United States.

The department supports a strong internship program which provides opportunities for career counseling and professional experience for academic credits. Department internship contacts with many businesses and agencies are valuable resources for student employment upon graduation. Geography students also participate in community service projects that touch on a wide variety of important concerns ranging from the environment to social inequalities.

Most undergraduate and master's students join the Massachusetts work force upon graduation. Our programs provide a quality education with marketable skills. The majority of our alumni work in eastern Massachusetts, but some venture farther to other parts of the US such as Washington, DC, Texas and California as well as overseas in such places as Sweden, China, Japan and Saudi Arabia. In addition, a number of students continue their education in graduate schools in a number of universities across the nation.
Concentration Descriptions
Bachelor of Arts - Geography
This is a general geography concentration which provides geography majors as well as dual geography/education majors a broad understanding of field of geography and the ability to craft their degree in many different ways.  It is also designed to provide a broad liberal arts curriculum with an emphasis on problem-solving techniques and a spatial perspective for majors who desire a liberal arts education.
Bachelor of Science - Cartography and Geographic Information Systems (GIS)
This is an applied concentration using geospatial technologies to analyze space-time interactions. Experiential learning utilizes real-world projects and case studies which focus on infrastructure, engineering, environmental issues and planning issues among the broad range of applications. Students will gain an understanding of the diversity of Geographic Information Systems software and applications, from being able to access and analyze satellite imagery in the study of deforestation to learning how to map chemical spills in the environment.  The geospatial technologies have been identified by the U.S. Department of Labor as one of the top job prospects in the country for more than five years.
Bachelor of Science - Geography
Environmental Sustainability
The Environmental Sustainability concentration provides a foundation for understanding and creating solutions for local to global environmental problems in a manner which does not compromise future generations. The inter-disciplinary curriculum integrates perspectives from geography, biology, geology, political science as well as philosophy and economics. The curriculum focuses on not only learning about environmental issues, but provides problem-solving skills and technical geographic computer skills as well. Course work is supplemented by experiential learning for those who wish to explore internships, directed studies and study-abroad opportunities during their studies. Students completing this concentration will be prepared for graduate school or employment with environmental non-profits, corporations, and varies levels of government.
Travel and Tourism
The tourism education program at Salem State University has been certified by the United Nations - World Tourism Organization, an award granted to only 8 other colleges in North America. This program will open your eyes to new ideas and open the employment door to new career path opportunities. Students examine current trends in travel and tourism, and delve into exploring the social, cultural and environmental issues surrounding tourism. Courses cover topical areas such as: Using tourism for economic development; Marketing tourism; International perspectives on tourism; Impacts of travel; Understanding local tourism initiatives; Special events; Ecotourism; and Recreation.
Combined Bachelor of Science Cartography and Geographic Information Systems, MS in Geo-Information Science
This is a new program for the Geography Department that allows students who have completed three years in the BS Cartography and GIS program at the top of their class to enter a program that will allow them complete both a BS and MS in five years.  Starting in the senior year, the students begin taking graduate courses, so that after five years they will have completed all of the requirements for both programs.
Minors
Secondary Education
Geography students may minor in Secondary Education or Educational Studies. Please consult the listings in the Education Department for requirements.
Cartography
This minor is excellent for those who want a technical minor to complement their major. This minor provides students with the basics of Cartography and Geographic Information Systems (GIS). This minor will provide students with technical skills in mapping and other geospatial technologies, providing employable skills to the major. This minor compliments a wide range of majors from computer science and criminal justice to geology, biology, political science and business. For additional information, go to Cartography Minor .
Geography
This is a broad minor for those who want to design a set of geography courses to complement their major course of study. It is an excellent minor for those who want a geographic perspective to deepen their major course of study such as International Business students learning more deeply about Africa, Asia and Europe, or History majors learning about maps and our physical environment. For additional information, go to Geography Minor .
Meteorology
Meteorology is the study of the atmosphere. Meteorologists focus on short-term and long-term conditions to make forecasts, analyze interactions between humans and the atmosphere, and understand the causes of weather and climate at many scales. Meteorologists can be employed as forecasters, researchers, and consultants. For additional information go to Meteorology Minor.  
Travel and Tourism
Travel and tourism is an important part of New England's economy and culture. The Geography Department has offered Salem State students a concentration in the field that has led to careers for many graduates. This Minor offers a core of tourism courses as a minor to students who can gain tourism expertise that can complement their major. These courses provide a firm conceptual background while offering flexibility.  For additional information go to Travel and Tourism Minor  .
Environmental Sustainability
This is a minor for those who want a basic understanding of how we manage our natural resources. The minor provides a scientific and policy view of natural resources. For additional information, go to Environmental Sustainability Minor.  
---